Permanent Exhibit
Room

1 

(Road to the Battle of Okinawa)

<![if !vml]>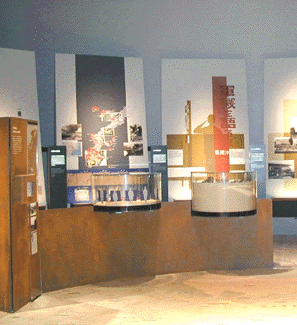 <![endif]>Shows the course of Okinawan history leading up to the Battle of Okinawa and its causes.
The Meiji government executed the ∩Ryukyu Disposition" with threats of force against the Ryukyuan court, and annexed the kingdom as a prefecture of Japan. Consequently Okinawa became rapidly japanized under the assimilation policy aimed at making the Okinawans as faithful subjects of the Emperor.
On the other hand, Japan, in a great rush for modernization, adopted a policy to ∪enrich the country with a strong army∩ expanding armaments and setting out to invade its neighboring countries. The national war effort escalated into the Manchurian Incident, the Shina-Japanese War and the Asia-Pacific War, in which Okinawa became the last battle ground of the so-called ∪15 –year war∩ that started in 1931.