A Guide to the Museum
ˇPermanent Exhibit
 >Room1
 >Room2
 >Room3
 >Room4
 >Room5
ˇChildren's Exhibit
ˇLibrary


A Guide to Old Battlefields and Other Museums
ˇAddress
ˇMap
 >Northern part.
 >Central part.
 >Southern part.
 >islands.


Messages from Visitors

Permanent Exhibit
Room

3 ∈

Battleground of Hell

∷

<![if !vml]>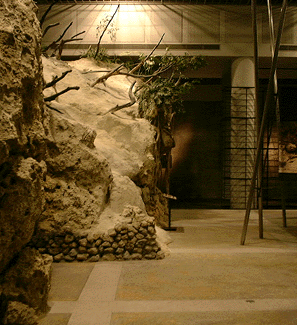 <![endif]>The atrocities which the Okinawan people endured during the Battle are evinced symbolically both below and above ground i.e., hiding in caves and wandering in the killing fields.
Avoiding a decisive battle in the Shuri area, the defending Japanese army chose to withdraw to the southern part of the island to wage a bloody war attrition.
Subsequently, the Japanese troops were cornered at the southern tip of the island and were wiped out. In the end, the area turned into an inferno where civilians and troops fled from one cave to another in a desperate scrambled for life. In some caves, Japanese soldiers slaughtered civilians, or forced them to commit mass suicide. Some residents died of starvation. Outside, hell broke out as artillery fire, mortar shells and flame throwers killed Japanese troops and residents en mass.